Backpage.com CEO Carl Ferrer has entered a guilty plea to state and federal conspiracy and money laundering charges in connection with his web site's operation, and will cooperate with federal law enforcement agents in their ongoing investigation into sex trafficking and prostitution.
Ferrer plead guilty pleas in both Sacramento County Superior Court and US District Court in Arizona. Federal agents shut down the web site on April 6th and several executives of the firm have since been indicted.
"For far too long, Backpage.com existed as the dominant marketplace for illicit commercial sex, a place where sex traffickers frequently advertised children and adults alike," U.S. Attorney General Jeff Sessions said in a written statement. "But this illegality stops right now."
Ferrer has agreed to cooperate in the criminal case against Backpage co-founders Michael Lacey and James Larkin. Prosecutors have alleged that the web site has generated more than a half-billion in prostitution related revenue, laundering much of it through foreign accounts and cryptocurrency.
Still charged in indictments are Backpage.com's executive vice president Scott Spear, chief financial officer John "Jed" Brunst, sales and marketing director Dan Hyer, operations manager Andrew Padilla and assistant operations manager Joye Vaught
EARLIER: U.S. goverment officials today shuttered Backpage.com, a classified ads website Backpage.com, which long been under fire because of allegations of sex trafficking and prostitution. Also today, an Arizona grand jury handed down a 93-count indictment against its co-founders — Michael Lacey and James Larkin — and five others associated with the site on charges of money laundering and prostitution.
Among the federal charges, per a Wall Street Journalreport: Backpage associates have made about a half-billion about $500 in prostitution-related revenue in the past 14 years and conspired to launder the ill-gotten gains through overseas banks.
"This is not a website that accidentally let an occasional ad slip through cracks of its review system," a Justice Department official said. "They engaged in consistent and concerted action to host ads they knew were related to prostitution."
PREVIOUSLY, April 6: Controversial online ad market Backpage.com has been seized by the Federal Bureau of Investigation and other law enforcement agencies, a posting on the FBI website indicates.
The Backpage.com website now shows logos of US enforcement agencies and promised more information later today. The FBI post claimed federal attorneys in Arizona and California and the Justice Department's section on child exploitation and obscenity and the California and Texas attorneys general jointly participated in the action.
Backpage was reportedly seized under the Allow States and Victims to Fight Online Sex Trafficking Act of 2017.
Backpage.com has long been under fire because of allegations of sex trafficking and prostitution. It is the second-largest classified service after Craigslist.
The Supreme Court declined in January 2017 to consider a lawsuit by three young women who accused the site of facilitating their forced prostititution. But the site has faced a barrage of other legal actions from various entities who accused it of aiding and abetting illegal sexual conduct.
Backpage was once affiliated with a group of alternative newspapers, including the venerable Village Voice, and had an investment from Goldman Sachs, among other big firms. The investment bank sold its stake when negative attention on its alleged sexual marketplace increased.
Craigslist recently shut down its personals marketplace, citing a new law that was passed that increased publisher liabilities for content.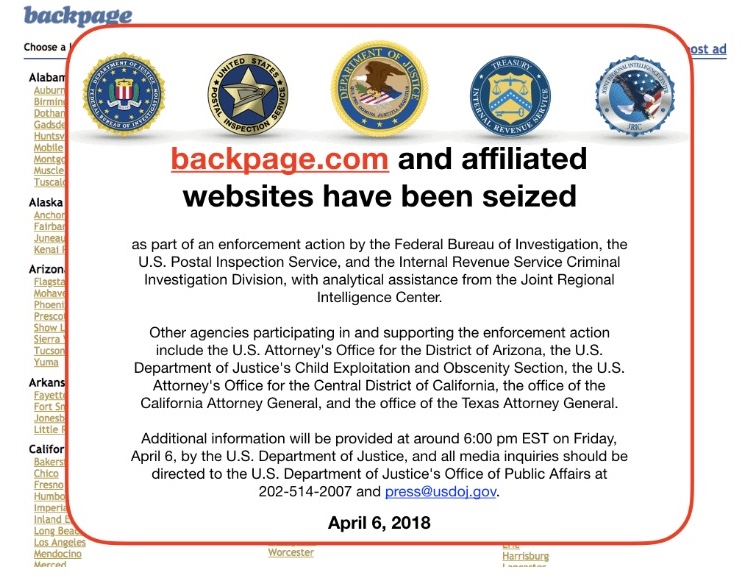 Backpage was started in 2004, offering online classifieds for a wide variety of services. But in 2011, it began to receive negative attention for its adult services subsection, as commentors, media and others claimed it was used to facilitate child trafficking and prostitution.
The company's CEO and other officials were arrested and a series of court cases ensued. Early last year, Backpage did away with its adult services subsection from its US website.
The FBI confirmed that it has raided the home of Michael Lacey, a co-founder of Backpage.com and once the publisher of the New Times alternative newspaper network. Another report indicated another co-founder, Jim Larkin, also had his home visited by authorities.
An attorney for Lacey, Larry Kazan, told The Arizona Republic at the federal courthouse in Phoenix on Friday afternoon that his client had been charged. Kazan said he did not know how many counts Lacey faced because the 93-count indictment was sealed.
Erik Pedersen contributed to this report.
Subscribe to Deadline Breaking News Alerts and keep your inbox happy.
16 Comments