I was shocked to hear that Hollywood types were already leaving town for the July 4th holiday. It's bad enough you guys cancel four straight scheduled meetings with screenwriters. Or have your assistants book appointments six months ahead which you'll cancel anyway. And all without a twinge of guilt. But lately you've become Slacker Town. So here's why Hollywood gets no work done:
June: Spend most of the month coordinating travel plans to hobnob with Bob Wright on Nantucket or Nora-and-Nick in the Hamptons on a summer kick-off long weekender. Plan to leave on June 20th for July 4th "weekend" vacation to Canyon Ranch, Cal-a-Vie or The Peaks because you think you're too fat to cruise the Mediterranean with Geffen or Diller.
July: Spend days jumping for joy that Ron Meyer has permanently canceled his ridiculously crowded annual July 4th party. Return from July 4th weekend just in time to depart for Allen & Co.'s Sun Valley investment conference. (Bring lots of DVDs to avoid the embarrassment of being seen with everyone mentioned in the Pellicano scandal.) Depart July 25th for August vacation.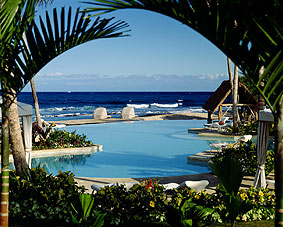 August: The first part of the month is your official vacation in your East Coast owned or rented property in the Hamptons or Connecticut or Martha's Vineyard. The second part of the month is your unofficial vacation at the Four Seasons on the Big Island to recover from the real and perceived slights you suffered the first part of the month. Ignore Emmys.
September: Return to work September 10th. Depart for Toronto Film Festival on September 12. Take week off for each High Holy Day, then take more time after you blame imagined food poisoning at the break-the-fast meal at your mother's. Take off for annual Aspen confab by Forstmann Little & Co.
October: Work, unless your studio owns a theme park that gets decorated for Halloween, or your agency is figuring your salary/bonus for next year, or you're Brad Grey, Tom Freston, Les Moonves and Jim Wiatt and you're planning another "Danger Boys' week together (previous jaunts took them to Cuba or the Amazon). Overbook your trainer and therapist and golf pro so you have an excuse to leave work early.
November: Departures for Thanksgiving on the East Coast begin November 15th. Spend a week supervising just which $10,000 Frank Lloyd Wright tchochke you'll give to Joel Silver to spend Turkey Day at his South Carolina plantation.
December: Return from NYC power shopping trip with the family on December 6th to keep your third wife from divorcing you. Don't forget to get the Oscar screeners back from the nanny before you head to Hawaii or St. Bart's December 10th. Then spend New Year's Eve ice skating with Ah-nold in Sun Valley.
January: Return from Xmas/New Year's vacation January 8th. Tell everyone how hard you're working, then leave January 11th for Sundance. Slink away to Aspen for a vacation from Sundance.
February: Schedule fitting days for those new tuxes and evening gowns, spa days for those slimming treatments, and dermatologist days for those Botox injections. Waste even more time partying with people you hate because it's the dreaded awards time.
March: Spend month in hiding after the dreaded awards time. That means your office. Working.
April: Take off Passover Week to recover from imagined food poisoning at Sandy Gallin's seder. Remember which kids in the house are yours during their school vacation.
May: Spend 10 days in NYC sweating out the network upfronts. Spend 10 days sweating out the frog critics in Cannes. Spend another 10 days getting "lost" on your way back from NYC or Cannes after you've dropped your Blackberry in the trash.
And then it's June again, back where you began.
Subscribe to Deadline Breaking News Alerts and keep your inbox happy.
No Comments