It's the end of Aaron Spelling, and the end of a TV era. To understand his once-upon-a-time utter dominance in the medium, you have to put together both Jerry Bruckheimer's and Dick Wolf's TV empires on one network, and then you'll understand. So I'm sharing with you this sit-down interview I did with him in 1989 way back when I was a Calendar writer for the Los Angeles Times covering the TV biz. Let me set the scene: he had this gargantuan office on what was then the Warner's Hollywood lot, and on his payroll a black guy in a white uniform (a porter? a waiter? heck, there's no PC term for that) serving us drinks. I let Aaron do his tapdance routine for me for about half an hour. Then I asked him, "Gee, if things are going so great for you, then why is this the first time in a generation of TV viewers you won't have any shows on ABC?" He looked like I had sucker-punched him. But then he got really, really angry. Not at me, but at the TV industry and network suits. It turned into a very revealing interview, one of those rare times in Hollywood when candor actually occurs between a mogul and a journalist. (But Aaron hated this article and regretted being so truthful. He gave his PR guy Warren Cowan many Maalox moments because of it.) After this humiliating TV dry spell, Spelling recouped and reinvented himself and his production company with Beverly Hills 90210, Melrose Place, Charmed, and so many other crappy shows that nevertheless we all craved. (Exception: Seventh Heaven, a cut above content-wise.) We won't see his ilk again, and TV is both worse and better off for it:
CAN SPELLING CAST HIS SPELL AGAIN?
VETERAN PRODUCER IS SEARCHING FOR THE MAGIC TOUCH IN A NEW ERA
Two years ago, Aaron Spelling had an idea for a dramatic and, he thought, different television series about a divorced family as told through the eyes of a little boy. Besides voiceovers (later used by The Wonder Years), its main innovation was its format — two back-to-back half-hour shows, one about the boy's weekdays with his mother, the other about his weekends with his father. "I got to tell you," Spelling confided, "I was convinced we were going to sell it." But ABC's programming bosses didn't want it."I could tell they thought I had come in with a very unique idea. But they didn't think I could pull it off," he recalls. "I knew they were saying, 'If only we could do it with (TV producers) a Bochco or a Zwick and Herskovitz.' "

Not so long ago, ABC would have been happy to do anything with Spelling, who had been cranking out hits for the network since Burke's Law in 1963 — most of that time under an exclusive contract. But then Capital Cities bought the network in 1985 and upset the status quo. Suddenly TV's king of trash and flash, who once programmed one-third of ABC's prime-time lineup with the likes of Starsky & Hutch, Charlie's Angels, The Love Boat and Dynasty, found himself unable to sell any new hour-long series for fall '86. And a half-hour sitcom with Lucille Ball bellyflopped so badly that ABC aired just eight shows. But the worst was still to come that year when Brandon Stoddard, then ABC's new entertainment division president, publicly promised that the network would no longer be "Aaron's Broadcasting Company." The implication, which wasn't lost on either Spelling or his competitors, was that Spelling not only couldn't deliver the sort of quality shows that Stoddard wanted, but also even bore some responsibility for ABC's nosedive in the ratings in the mid-1980s. "Sure, that hurt," Spelling admits in a recent interview at his gargantuan office on the Warner Hollywood lot. "I've become a little whipping boy for the network. But something has happened to me now that I never used to feel. I get really hurt when they say nasty things."


Today, three decades after he got his start in Hollywood and nearly one year after the expiration of his 18-year pact with ABC, Spelling is in a not-so-enviable position — at age 65, the once-powerful insider is an outsider. The man who many thought was immune to the up-and-down fortunes of the TV industry is now just another producer trying to sell his programming — albeit a super-rich one who's building a 56,500-square-foot home in Holmby Hills. "It's a more difficult time for Aaron than ever before," says Lynn Loring, a one-time Spelling protegee who now is vice president for development at MGM-UA Television. "When he was at the top of the game with truly no competitors, Aaron Spelling was God. That's not true anymore."

The good news, as Spelling sees it, is that he now can take his ideas to NBC, CBS, Fox, syndication and cable, instead of having to rely only on ABC's wants and whims. The bad news is that many within the industry consider his unique brand of escapist fantasy and action-adventure shows to be out-of-step with today's emphasis on half-hour comedies and more realistic dramas such as L.A. Law and thirtysomething. Spelling, however, believes the programming pendulum is swinging back in his direction. "I think there's a terrible lack of entertainment on TV these days," he contends. "The one insatiable appetite that people watching television share is to escape. And if you have 9 or 10 'thirtysomethings' on the air, you will drive this audience away farther than we've contributed to driving this audience away already."


As proof of this, he points to the surprise success of his new NBC series about scantily clad nurses, Nightingales. Though reviled by the critics, it nevertheless has been winning its time period at 10 p.m. Wednesday nights, prompting top executives at CBS to call Aaron Spelling Productions and ask, 'Can you do that for us?' " On the other hand, Spelling's Dynasty and HeartBeat are dying on ABC against NBC's invincible Thursday night lineup, and a much-publicized sequel to Charlie's Angels for Fox Broadcasting has become mired in legal wrangling and has been scrapped as a series idea, though TV movies haven't been ruled out.

While Spelling maintains that he would like to do more quality programs on the order of his recent CBS-TV movie Day One, about the development of the atom bomb, he complains that network executives don't often trust him to make them. Forgotten, he says, are his series Mod Squad and Family which were hailed as breakthrough programs in their time, and his TV movie about anorexia nervosa, Best Little Girl in the World, which won critical acclaim in 1981. "I'm in a 'Catch 22' situation. It's where they pigeonhole an Aaron Spelling and say, 'He can only do this,' and 'He can't do that.' It's about to drive me crazy."

MGM-UA's Loring, who used to work in Spelling's development department, says he only has himself to blame for his current dilemma. "I think what happened is he put himself into a bind where he continued to turn out what ABC was asking him to turn out — The Love Boat, Fantasy Island and that rash of shows that made not only the network successful but also Aaron Spelling successful as well. But one has to wonder why he didn't use the power that he had at ABC to do more quality shows. So Aaron says ABC wouldn't accept them from him. Well, he's now able to work with two other networks at least. Where's his new Family? Where's his new Best Little Girl? Instead he gives us Nightingales. And speaking now not as an executive but as a woman, I find that show offensive."

But Spelling defends shows like Nightingales, which he boasts was his idea. "Just take a week and see what the top 10 or 15 shows were and how many were entertainment, and how many were thought-provoking," he says. "I think you'd be surprised." Talking to Spelling, who alternates between sounding incredibly cynical about Hollywood ("As Shakespeare said, there's are only seven plots anyway") and as wide-eyed as the first day he arrived from Texas, it's clear he likes his TV the old-fashioned way. And, just as his personal style hasn't changed over the years — he still wears sweaters and sneakers to the office — neither have his ideas about TV. He truly likes plots as simple as boy meets girl, characterization that's not too multi-dimensional, and lots and lots of happy endings. As he himself says, "I make shows I want to watch."


Nevertheless, over the past three years, he has revamped the TV side of his production company to bring in younger people. For instance, his vice president for creative affairs now is 31-year-old Ilene Chaiken. "If the company is going to change and start doing fresher things," he notes, "it starts with its development people." Under this new team, his company has pilot orders from all three networks for fall, though no commitments yet. Spelling maintains he's trying to give them that "something different" in programming they all seem to want. "But I wish someone would explain to me what they mean by doing it differently," he laments, throwing up his arms in disgust. "I can honestly say that I don't know what the networks want anymore."

For CBS, Spelling is making Curse of the Corn People, set in a small farming town in Kansas, about a group of high school graduates whose one ambition is to make a low-budget horror movie on the order of The Texas Chainsaw Massacre. Even his development director recognizes it's an "unusual notion" for a series. But Spelling sees it as an "almost twentysomething. " Also in development for CBS is a more conventional murder-mystery show about a chess master and his manager, who crisscross the globe playing matches and solving crimes. Meanwhile, for NBC, "we're getting into comedy in a big way," Spelling maintains. His company is developing a half-hour situation comedy based on Robin Schiff's play "Ladies Room," which is set in a women's restroom. Titled Temporarily Yours, the pilot has been written by Schiff, who pursues the same women-talking-about-men themes as in her play. Spelling seems to be NBC Entertainment President Brandon Tartikoff's newest best friend. In 1986, when he first went to talk to the programming chief, Tartikoff met him at the elevator with a band playing "The Yellow Rose of Texas." And, just recently, as Spelling and CBS President Laurence Tisch were dining at Chasen's, Tartikoff arranged to be their waiter. "It's so nice to be cared about," Spelling says. "It's been a long time since I've been treated that way."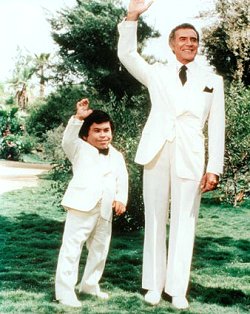 When discussing what he calls his "love-hate" relationship with ABC's Stoddard, Spelling sounds bitter about the way he has been treated him. Presently, Spelling has only one pilot in the works for ABC — Sam Berdoo, a series about a "hard-boiled" private eye who's raising his dead buddy's teen-age daughter — but not for lack of trying. "For instance," he adds, "we did a whole presentation for a show about people who threw reunions. And, low and behold, the things that they objected mostly to were the reunions that dealt with serious subjects. And, yet, if we had submitted those flash-and-dash Love Boat, Fantasy Island, Finder of Lost Love story lines again, I thought they'd say, 'That's exactly what we don't want to do. Aren't you ever going to grow up, Aaron?' "

Still, if Dynasty and HeartBeat are cancelled, and Sam Berdoo not picked up, that would mean a Spelling-less ABC — a first for a generation of TV viewers. While Stoddard, who resigned last week, wouldn't comment for this article, his right-hand man, Ted Harbert, ABC's senior vice president for programming, did. "I think even Aaron will admit that a network's over-reliance on any one producer is a mistake," Harbert says of the decision not to renew Spelling's exclusivity contract last April. "And that's not to say anything derogatory about Aaron. It's just that we were depending on one guy to give us all our good shows. So we had to increase our odds by opening the doors." Harbert also acknowledges that other producers felt they wouldn't get a fair shake at the network — or much less a good time period — unless their initials were A.S. "Some of it was true, some of it was not true. But if the perception was there," he explains, "that caused a big problem for us. So we really did have to create a new perception."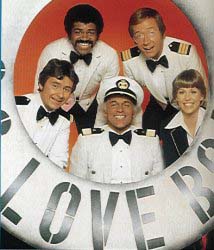 "I guess I should apologize to ABC that Love Boat was on 10 years, and Dynasty 9 and Hotel 5 and Vega$ 4 and Matt Houston 3. I guess that was my fault the shows were successful," Spelling bristles. "Frankly, I think Stoddard had to do something when he took over. And the thirtysomethings and the China Beaches is the direction he chose to go. But tell me," he adds, "what shows in this new genre are really successful?"

Dave Lane, head of ABC's affiliates and general manager of WFAA-TV in Dallas, is one of those Spelling critics who applaud the network's decision to reduce the producer's influence. "When Brandon came in, he said that over time he needed to evolve his own relationships with the producers he felt comfortable working with. And, quite honestly, his philosophy didn't square with what Aaron Spelling was producing at the time."

Spelling has little good to say about the new generation of TV makers that Stoddard brought in to replace him. Noting the current hype surrounding Steven Bochco, the writer-producer who co-created Hill Street Blues, L.A. Law and Hooperman, and who has been given a long-term exclusive deal to create more series for ABC, Spelling asks cattily: "Where's the screaming about the Bochco contract? I don't hear anybody saying, 'My God, with all these series he's doing for ABC, how are we ever going to get a show on? Look," Spelling adds, "I think Steve Bochco is brilliant and L.A. Law and Hill Street Blues were great. But then let's see his track record. You think Hooperman is a big-rated show? And was Bay City Blues a big smash?"

Picking up the two-for-four metaphor, Bochco responds: "If I were in the major leagues and I was hitting .500, George Steinbrenner would probably make me a wealthy guy."


As for thirtysomething, which won the Emmy Award last season as television's best dramatic series, Spelling says it's "not a show I can watch every week. It has a little too much angst and whining for me. If it weren't for the critics, 'thirtysomething' would never have made it. There's no doubt about it." MGM's Loring, whose studio produces the show, replies: "Too much angst? Unlike Dynasty? If you want to talk about angst and depression and insanity and any kind of human emotion on a scale of one to 10, then Dynasty has hit the highest number on the Richter scale."

Well, then, how about ABC's Vietnam series China Beach? "I liked the pilot," Spelling says. "But I just don't know if I want to see the gore of everything that happens there." On the other hand, Spelling thinks Stephen J. Cannell's Wiseguy on CBS is "terrific. I get a pang every time I see a successful show, to be very honest with you. I go, 'Dammit, why didn't we think of that?' I wished I had recognized the immense talent of that star (Ken Wahl)."

If Spelling is finding himself hamstrung in the TV business, he claims his freedom may lie in feature films, even though his record of success there is spotty at best. "Lately, it's been easier to sell theatrical movies than TV shows. In movies, there is no stigma for me." After the box-office hit Mr. Mom," Spelling's most recent movies — including the adaptation of the play " 'night, Mother," and fluffier efforts "Surrender" starring Sally Fields and Satisfaction with Justice Bateman — have fallen flat with audiences. This year, Tri-Star will be releasing his company's latest production, The Von Metz Incident, starring Gene Hackman and Dan Aykroyd.

No matter how his fortunes fare in TV into the 1990s, Spelling in the end is content to be judged "on my staying power in the business." That was the main theme that emerged last September when he was honored by the Museum of Broadcasting at a star-studded lovefest. And that also appears to be the main theme of an as-yet-untitled book of memoirs he's currently writing for Little, Brown about his experiences. "It will say that if you think hard enough and work long enough, a lot of your dreams can come true in the TV business," he says. "But the problems of TV now are immense. We can't treat this anymore like a candy story where, no matter what you put on the air, every producer and every network gets rich. We are in a hard-crunch business now and I hate it."

So why doesn't he just forget the whole thing? "If you want to know the honest-to-goodness truth," he confides, "I just love it, including the aggravation."
Subscribe to Deadline Breaking News Alerts and keep your inbox happy.