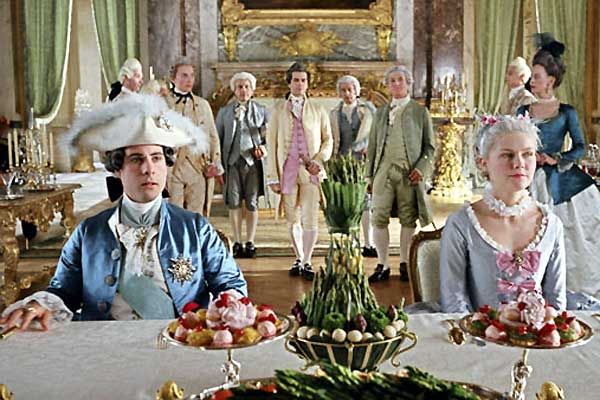 Today, Sofia Coppola's Marie Antoinette screened for the world press this morning and for the VIPs tonight at the Cannes Film Festival, then opened big in France today. (It doesn't open wide in the U.S. until the fall.) Frankly, I always thought the idea of debuting this film in the country that helped invent the class revolution — with a plot that presents Miss Let-Them-Eat-Cake as Paris Hilton, only more sympathetic — was crazy talk. (I, for one, found her Lost in Translation some of the more tedious hours of my life, so that's where I'm coming from.) So I've been especially curious to see the French reaction to it. After all, they're not as much in love with Sofia as America's film critics and indie hipsters, who all swoon over everything Sofia does. Example, her U.S. sycophants adore how she's set the trailer of this 18th century biopic to New Order's "Age of Consent" and juxtaposed period costumes, facilitated by Manolo Blahnik of Sex and the City fame, with Bow Wow Wow's "I Want Candy" and a cover of "Fools Rush In." Anyway, Marie was booed by audiences at the media screening, I'm told (and that's backed up by AP and AFP news services). The film had been expected to be a contender for this Sunday's Palme d'Or, but, c'mon, we all know that award is going to either Alejandro Gonzalez Inarritu's Babel, or Pedro Almodovar's Volver.
At the VIP screening, a source gushed to me how Marie received a 10-minute standing ovation, and Almodovar made a point of wrapping his arms around Sofia and her father, Francis Ford Coppola. But the press screening was another story. Not only did it prompt snickering at times, I was told, but boos drowned out the very light applause at the end. Coppola initially was downcast about the catcalls, but it was her idea to show it first in France because the movie was made there, and even filmed at the Palace of Versailles in the actual locations where Marie's life unwound. Word to the wise, Sofia: stay away from any and all sharp objects.
Subscribe to Deadline Breaking News Alerts and keep your inbox happy.