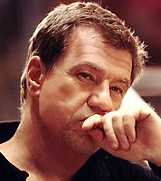 What a shocker. But, no, we didn't find out more about what really happened behind-the-scenes between himself and producer Chuck Roven on Rollerball. Everyone involved was very tight-lipped about the plea bargain inside and outside Roybal Federal Building in Downtown Los Angeles today. The helmer of Die Hard and The Thomas Crown Affair and Predator entered a plea agreement with the government in the Pellicano scandal and pleaded guilty to a single felony—lying to a federal agent. He is the sixth Hollywood figure so far to cop a plea. McTiernan faced a charge that he lied to FBI agents when he said he had no knowledge of alleged wiretapping involving thug P.I. Anthony Pellicano. The director faced a maximum sentence of five years in prison if convicted of lying to the FBI.
When U.S. Magistrate Judge Ralph Zarefsky asked how the director would be pleading, his defense lawyer John Carlton replied that "We have signed a plea agreement." Outside court, neither Carlton nor Assistant U.S. Attorney Dan Saunders would discuss the agreement with reporters. The 55-year-old McTiernan begged off saying "Not a word." The AP noted Saunders said that McTiernan's case probably would be combined with others involving Pellicano. There's another hearing for McTiernan on April 24th and sentencing takes place on July 31th. According to the AP, Carlton asked Zarefsky to allow McTiernan, who lives in Wyoming, to travel for his work. But the judge put restrictions on the director's $50,000 bond, saying he could travel in California and Wyoming but must notify authorities if he goes anywhere else.
Previous: UPDATED: McTiernan-Roven Demystified, McTiernan-Roven Still a Pellicano Mystery, EXCLUSIVE: Movie Director's Wife Says McTiernan-Roven Had "Good Relationship", 2nd UPDATE: Film Director Accused of Lying to FBI in Pellicano Scandal.
Subscribe to Deadline Breaking News Alerts and keep your inbox happy.
No Comments