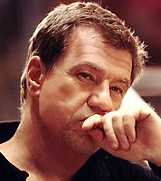 Anthony Pellicano's trial will NOT start April 18 as technically scheduled. Everyone's best guess is that the trial will be delayed until at least October. (Phew!) BUT, famed director John McTiernan is scheduled to be arraigned on April 17 in the Roybal Federal Building in Downtown L.A.
Previous: UPDATED: McTiernan-Roven Demystified, McTiernan-Roven Still a Pellicano Mystery, EXCLUSIVE: Movie Director's Wife Says McTiernan-Roven Had "Good Relationship", 2nd UPDATE: Film Director Accused of Lying to FBI in Pellicano Scandal.
Subscribe to Deadline Breaking News Alerts and keep your inbox happy.